Unit developed by Tracy (Trimpe) Tomm & Dawn Hughes, 2007
This problem-based learning unit was developed as a part of the Illinois Math & Science Partnerships project funded through a grant from the Illinois Board of Education. For more details about this program, visit their website at
http://www.tdlmathscience.org/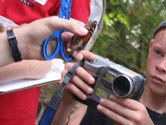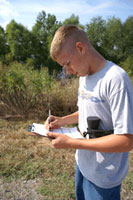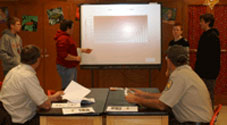 Project Overview
The Butterfly Brigade unit challenges students to solve a problem involving the diversity of butterfly populations at a local refuge. After learning about biodiversity and methods for scientific investigations, the students work together to develop a method for surveying the butterfly populations at a local refuge that will result in accurate and reliable data. The students use their collected data in math class to create Excel spreadsheets and graphs to help them analyze the data. During science classes, the students compare data sets from previous years to the current set to identify areas of concern with regards to the diversity of butterflies. The students use Internet resources to develop possible strategies that could be implemented to increase diversity in future years. At the end of the project, students create final reports to summarize their findings and strategies. The refuge manager and/or the wildlife biologist visit our classroom to hear their reports.
| Back to Top |

Teacher Notes
This module was developed for use with 8th grade students. The majority of the lessons are designed for the science classroom with the data analysis lesson completed in the math classroom. If a partnership between a math and science teacher is not possible, the module may be completed entirely in a science classroom.
Students will need to have prior experience with identifying common Illinois butterflies. You may choose to limit your survey to a few easy-to-identify species in order to expedite the survey process and reduce possible errors in data collection. An introductory PowerPoint presentation, field guide cards, and flash cards have been provided to help your students learn how to identify the 25 species listed on the Illinois Butterfly Monitoring Network Beginner's List as well as a few from the intermediate category.
NOTE: It is not required that every student is able to identify every butterfly. Rather they should be able to work together as a group and use the field guide to identify the butterflies they see at the refuge.
| Back to Top |
Primary Career Pathway: Natural Resources Systems
Occupation/Job Titles Related to this Scenario: Wildlife Managers, Ecologists, Park Managers, Environmental Interpreters
Recommended Teaching Subject Areas: Life Science, Ecology
Cluster Knowledge and Skills and Performance Elements addressed:
Monitor natural resource status to obtain planning data
Employ environmental and wildlife knowledge to demonstrate natural resource enhancement techniques
Communicate natural resource information to the general public
Use science concepts, processes, and research techniques to examine natural resource topics
Examine biological and physical characteristics to identify and classify natural resources
Apply statistics, charts, and scatter grams to measure and monitor operations
| Back to Top |
The local board of the US Fish and Wildlife Service wants to increase the biodiversity of the butterfly population within Chautauqua Wildlife Refuge. Your task, as refuge manager, is to recommend a strategy to increase the diversity of the butterfly populations at this site.
| Back to Top |
Develop a procedure to conduct a butterfly survey
Identify data collection methods that will result in accurate and reliable data.
Conduct a field survey to document the diversity of the butterfly populations.
Analyze collected data to determine the diversity status of the butterfly populations and identify areas of concern.
Make a presentation to refuge staff that recommends a strategy that will have a positive effect on butterfly populations.
NOTE: A list of related Illinois Learning Standards for math and science are listed at the bottom of this page.
| Back to Top |
Butterfly Boot Camp - I use these presentations as class warm-ups for a two-week period prior to the scheduled field trip. The presentations introduces students to butterflies commonly found in our area and provides quick quizzes. In addition, flash cards and field ID guides are available. The students use the flash cards during class or study hall to practice their identification and are able to refer to the field guides during the survey field trip.
Presentations: Brushfooted 1, Brushfooted 2, Brushfooted 3, Satyr, Swallowtails, Gossamer Wing, Whites & Sulfurs, and Skippers
Lesson #1: Biodiversity Basics
Students watch the Biodiversity of Illinois video to learn about issues related to biodiversity in our state.
Student Worksheet: Biodiversity of Illinois
ALSO AVAILABLE for educator's outside Illinois ... The Wild Classroom Biodiversity worksheet to use with their biodiversity video.
Lesson #2: Butterfly Problem
Students work together to develop a survey method that will ensure reliable, accurate data.
Student Worksheet: Butterfly Problem
Lesson #3: Name That Butterfly
This lesson provides students with the opportunity to use the butterfly flash cards to practice their identification. If time is available, students may practice their survey techniques by surveying the schoolyard or other local nature area.
Resources: Lesson 3 Overview, Butterfly Flash Cards
Lesson #4: Survey Field Trip
The PDF download below provides an overview of the survey field trip procedures. Related resources are also provided.
Resources: Lesson 4 Overview, Survey Data Page, Butterfly Field Guide
Lesson #5: Data Analysis Part 1
The PDF download provides an overview of the data analysis portion of the project completed in math class.
Resources: Lesson 5 Overview & Data Analysis Part 1 Worksheet
Also available ... Math Lesson Descriptions, Excel Basics Tutorial
Butterflies through Binoculars – Available through most bookstores
ISBN-10: 0195106687
Golden Guide: Butterflies & Moths – Available through most bookstores
ISBN-10: 1582381364
Science Descriptors (Level H)
11A - Students who meet the standard know and apply the concepts, principles, and processes of scientific inquiry.
Formulate issue-specific hypothesis, generating inquiry questions for an issue investigational premise, differentiating qualitative and quantitative data and their applicability, using conceptual/mathematical/physical models, or previewing associated research.

Design scientific issue investigation which addresses proposed hypothesis(es), proposing applicable survey instruments, or selecting associated research, analysis, and communication components.

Conduct issue investigation, using technologies for data collection and assimilation, following established formats for random sampling, or following all procedural and safety precautions, materials and equipment handling directions.

Interpret and represent analysis of results evaluating data sets to explore explanations of unexpected responses and data concurrence, evaluating survey validity and reliability, or analyzing research and data for supporting or refuting the hypothesis.

Report, display and defend the process and findings of issue investigation, presenting oral or written final report for action response options for peer review, generating further questions or issues for consideration, or evaluating other resolutions or responses for action for applicable correlations, consolidation or explanations.
12B - Students who meet the standard know and apply concepts that describe how living things interact with each other and with their environment.
Apply scientific inquiries or technological design to explore the implications of change and stability in ecosystems, identifying evolutionary adaptations brought on by environmental changes, analyzing factors that influence the size and stability of populations (e.g., temperature, climate, soil conditions, predation, habitat), or contrasting energy use by organisms.

Apply scientific inquiries or technological design to examine species' demise or success within ecosystems identifying problems for species conservation and extinction, projecting population changes when habitats are altered or destroyed (deforestation, desertification, wetlands destruction, introduction of exotic species),or researching economic and scientific value implications for changes to genetic diversity.

Apply scientific inquiries or technological design to study biogeography, researching global biomes, locating hemispheric, continental, and regional examples of each biome, or graphing associated mathematical comparison factors.

Apply scientific inquiries or technological design to analyze Illinois-specific ecosystems and biomes, modeling topographic features, population data, plant diversity and distribution from historic records, collecting scientific seasonal/annual local ecosystem data for direct connection to change and stability factors, or projecting scenarios of changes to local ecosystem for near- and long-term future contingencies.
13A - Students who meet the standard know and apply accepted practices of science.
Apply appropriate principles of safety within and beyond the science classroom, communicating and following clear instructions, mapping classrooms for safe egress and distances/times to access safety treatment features, demonstrating safety practices and emergency procedures pertaining to laboratory and field work, or explaining the basis of safety practices and procedures.

Apply scientific habits of mind to curricular investigations in life, environmental, physical, earth, and space sciences, evaluating evidence, inferring statements based on data, questioning sources of information, explaining necessity of manipulating only one variable at a time, or retrieving mathematical data accurately for scientific analysis.

Analyze scientific studies referenced in curricular investigations in life, environmental, physical, earth, and space sciences, reviewing experimental procedures or explanations for possible faulty reasoning or unproven statements (e.g., power line magnetic fields, abiogenesis models), distinguishing relationships of scientific theories, models, hypotheses, experiments, and methodologies, or distinguishing fact from opinion and science from pseudoscience.
Math Descriptors (Level H)
10A - Students who meet the standard can organize, describe and make predictions from existing data. (Data Analysis)
Construct, read, interpret, infer, predict, draw conclusions, and evaluate data from various displays, including histograms and scatter plots.

Determine the best measure of central tendency from mean, median, or mode.

Discuss how data can be manipulated to represent different points of view based on the use of different measures of central tendency and based on different graphical displays.

Discuss biased reporting of data and questions that should be asked when data is viewed.

Analyze graphical displays of data for possible misleading characteristics.

Make conjectures about the possible correlation between two characteristics of a sample on the basis of scatter plots of the data and approximate lines of fit.
10B - Students who meet the standard can formulate questions, design data collection methods, gather and analyze data, and communicate findings. (Data collection)
Formulate a question, design a study to answer the question, and collect data.

Analyze potential methods of collecting information and decide which methods would produce the most reliable and accurate data.

Analyze instruments used for surveys for errors and bias.

Analyze potential experiments or simulations for errors and bias.
| Back to top |