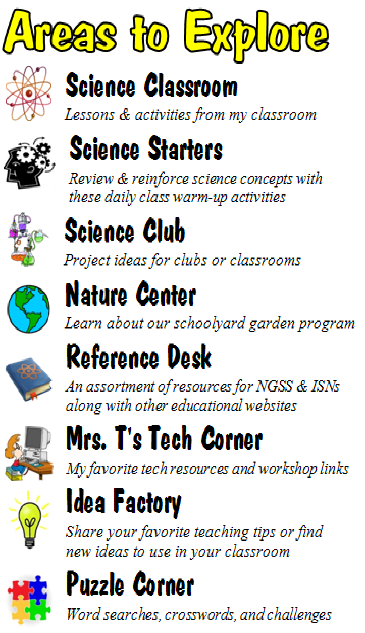 Popular Resources:
Find new resources to help you implement NGSS in your classroom.
Visit my Forensic Science page to find lessons you can use in your current curriculum to target forensics.
Explore the Kid Zone to find links to interactive sites and great resources for your students.

Welcome to the Science Spot, your source for FREE lessons, activities, and resources for middle school teachers!
Mrs. T's Site Spotlight - EDPuzzle
I currently utilize their website in my 1:1 science classroom. They offer easy-to-use tools to edit videos, add voice notes, and quiz questions. I have edited many videos to use in place of traditional notes to review topics, introduce concepts, and extend classroom activities. Check out my worksheet for genetics using two EDPuzzle videos: Heredity Basics and Punnett Squares.
What are we studying in class? My students are working on the Super Slingers project, one of the Junk Box Wars projects. These projects challenge students to create a device using a bag of junk (odss & ends collected over the years). Go to the Junk Box Wars page for more details and lesson ideas.

The Super Slingers project involves using a mousetrap catapult to launch a large marshmallow to earn points. This year students start the project with a quick lesson on projectiles available at the PHET website. Click here for the worksheet and related powerpoint!