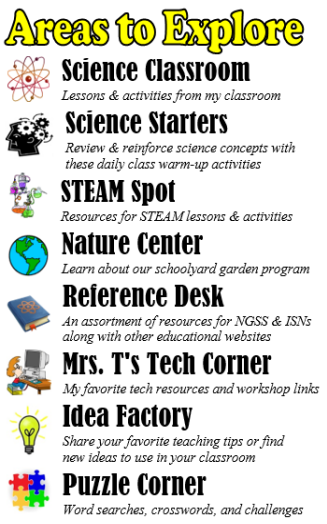 Popular Resources:

NGSS - Find new resources to help you implement NGSS in your classroom.

Visit my Forensic Science page to find lessons you can use in your current curriculum to target forensics.

Kid Zone - Links for teacher's to use with their students!
Welcome to the Science Spot, your source for FREE lessons, activities, and resources for middle school science teachers! 

Peppered Moths & Bee Bonanza activities have been updated with extention activities and review questions.  Go to the Biology page of the Science Classroom to find these resources.

Missing the Kid Zone?  It's back in a new area designed to help teachers find my favorite online resources for classroom activities and investigations.  Go to the Reference Desk:  Links for Students to find new links.
Interactive Notebook Page - Includes samples of my digital INBs for back-to-school and Science Starters!  You'll also find links to a Digital ISN resource page and FAQs.
Follow the Science Spot on Facebook to keep up-to-date on new lessons, links, and other site updates.  You can also donate to buy me a treat, which helps to support this site and all the free resources it provides!