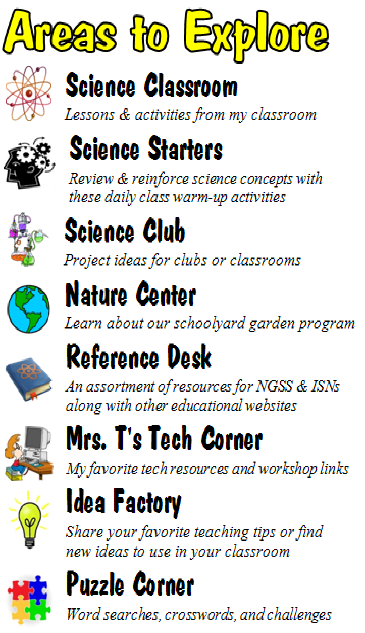 Popular Resources:
Find new resources to help you implement NGSS in your classroom.
Visit my Forensic Science page to find lessons you can use in your current curriculum to target forensics.
Explore the Kid Zone to find links to interactive sites and great resources for your students.

Welcome to the Science Spot, your source for FREE lessons, activities, and resources for middle school teachers!
Mrs. T's Site Spotlight - EDPuzzle
I currently utilize their website in my 1:1 science classroom. They offer easy-to-use tools to edit videos, add voice notes, and quiz questions. I have edited many videos to use in place of traditional notes to review topics, introduce concepts, and extend classroom activities. Check out my worksheet for genetics using two EDPuzzle videos: Heredity Basics and Punnett Squares.
What are we studying in class? My students are working on the chemistry unit. We have reviewed the basics of elements, mixtures, and compounds. They will enjoy a "Scientific Snack Day" on Friday (before winter break) and apply their knowledge to the different snacks (and drinks) they bring in to enjoy.

After winter break, we will be exploring chemical bonding with my Bonding Basics lesson available on the Chemistry Lesson Plans page. We will also investigate physical and chemical changes with lessons on polymers and a cookie mystery! Both of these units are also listed on the Chemistry page linked above.